Freeimage.host support ShareX. Download ShareX and simply fill in our details to the Chevereto uploader (our engine)
ShareX
Download ShareX here and install it to your computer.
Configure with Chevereto
Open ShareX and go to Destinations -> Image Uploader -> Chevereto as shown here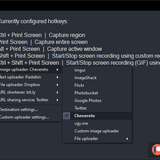 Once you have chosen Chevereto as the Image Uploader go to Destinations -> Destinations Settings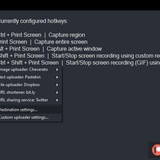 For Upload URL use: https://freeimage.host/api/1/upload
API Key use: 6d207e02198a847aa98d0a2a901485a5
Select Direct URL if you don't want to view the image via our site. Close the window and start using ShareX with freeimage.host!
*Uploading images to your own freeimage.host account is not possible at this time, all images are upload as "guest" through ShareX